Below are some photos of our crew.
07/08
2008 ICDCA Specialty
Libby earns Reserve Best Female and Best Brood Bitch (in stiff competition) while her finishes her 8½ month old son, Johnny, earns Best Male.
Libby goes on to finish her UKC Championship later that same weekend.
05/08
2008 MCDC Regional Specialty weekend
Libby (l) finishes her AKC Championship and her son, Johnny (r), earns Best Puppy and Reserve Winners Dog at the tender age of 6 months.
08/07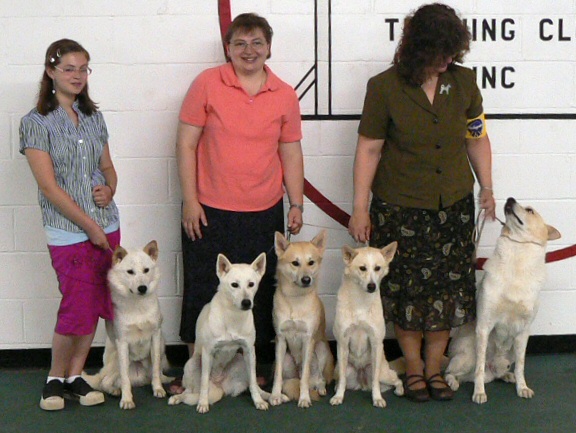 2007 ICDCA Specialty
(left to right) Talie with Simba; Alla with Libby and Velvl, and Cheryl Hennings (Mira's co-owner) with Mira and Zeke (one of Cheryl's many beautiful dogs).
12/06
Libby (left) and Mira (right) looking beautiful.
10/06
Libby and Velvl at the 2006 ICDCA Specialty in Perry, GA
9/06
Mira (left & center) and Libby (right) taking it easy.
22 month old Libby and Velvl hanging out the night before they earned their third majors (09/09/06).
8/06
21 month old Libby and Velvl receiving their second majors (08/13/06).
21 month old Libby and Velvl receiving their first majors (08/06/06).
A huge thank you to Keith Shank for a fantastic job showing Velvl.
2/06

15 month old Libby looking beautiful.
10/05
11 month old Velvl earning his first AKC point.
9/05
10 month old Libby earned her CDCA HC (Herding Certified) at the 2005 CDCA National Specialty and received the Best Rookie Herding Potential Award. The photos below show her herding enthusiasm.
The above two photos are copyright protected and are courtesy of Tom Woolf.

The above photo is courtesy of Keith Shank.
5/05

Talie and Mira waiting to be judged at the
2005 ICDCA Specialty Junior Handling competition
Here's Libby (6mo old) being her silly self.
Mira looking beautiful "Mom, no more pictures!"
4/05
Libby & Velvl, 4½ months old
3/13/05
Mira, Velvl, and Libby showing Libby, the wild one, puppy kisses
Libby playing who's boss always ready to play
3/09/05
Since Libby is not going to agility training yet, she has
decided to improvise and use her brother, Velvl for practice.
2/19/05
The girls relaxing at home after the long drive home from
the Westminster dog show.
1/31/05
Libby being a couch potato after a play session with mom.
1/23/05
Libby (l) with Mira (r) Libby (12wks)
Hanging out at the Des Moines dog show.
Mira sleeping after playing with her pups all day.
Mira with Libby Mira with Velvl